At Our Savior's we offer numerous opportunities for on-going faith formation and discipleship, for both adults and children.

Regular Sunday school follows worship on Sundays during the school year. There is more than one Bible Study group, including one at 7 pm on Tuesday evenings in the church fellowship hall - open to everyone. Several of the men join a community Bible study at 7 am on Wednesday mornings at the Oak Street Station.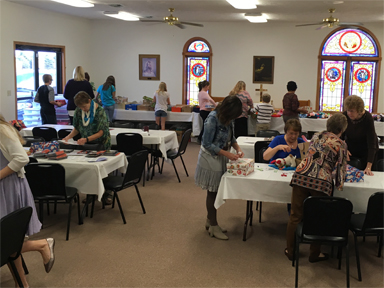 Jesus spent a lot of time loving, teaching, and sharing with His disciples. As disciples, we show the love of Jesus, whether in our own families, our church, our jobs, our community, or the world. Even simple things show discipleship: reading the Bible, listening to Christian radio, teaching children Bible stories or songs, being considerate, praying before meals (including in public), sharing time and talents.

We share our time and talents when we help at the West Lyon food give-away, spend time at the nursing homes, visit shut-ins and hospitalized, mentor school children, and mentor prison inmates.

We pray for those close to our hearts, and many that we don't know. To God be the glory for every worker in His kingdom who shows the light of Jesus to the world!
2065 Birch Ave, Inwood, IA
Church: 712-753-2296

Our Savior's Lutheran Church
Come and Meet Our Savior